The College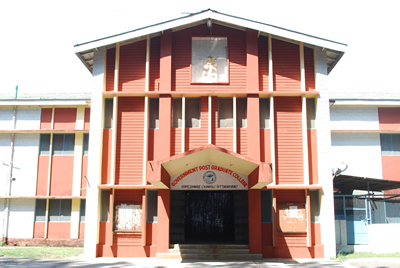 Government Post Graduate College Gopeshwar (Chamoli) is situated in Lesser Himalayan Zone of Garhwal Himalaya at an altitude of 1430 mt. in the midst of Gopeshwar town which is spread over the south east facing valley slop on the right bank of Alaknanda river.
Government Post Graduate College Gopeshwar (Chamoli) came in to being in 1966 with a small number of 22 students. At that stage, the college was affiliated to Agra University with the inception of Garhwal University in 1975, the college then got its affiliation to it. The basic purpose of the establishment of the college, was to extend the education to the most common and poor person of this remote hilly area. At present, the college has the honor of having the maximum number of faculties such as Arts, Science, Commerce and Education in the state. Amongst the faculties most of them have the PG status.
The college has since been serving very effectively, with the purpose of promoting the cultural, social and economic aspects of the region. The college is sincerely devoted to the cause of social challenges at the local level and committed to their solution. The college is adopted by the State Government as a college of excellence since 2004 for achieving excellence and quality education, among the student who come from far flung areas of the place, with a very poor economic background. The college also has the honor of having been accredited by NACC (UGC) as 'A' grade college in February 2016. The college also has the facility of various grants provided by UGC. Today the, 22 students number at the beginning has sought up to more than 3000 mark.